Person6445 (Tyranitar) (M) @ Choice Band
Trait: Sand Stream
EVs: 4 HP / 252 Atk / 252 Spd
Jolly Nature (+Spd, -SAtk)
- Crunch/Fire Punch/Ice Punch
- Pursuit
- Superpower
- Stone Edge
TTars purpose is just almost like any others, to send out the GLORY sand out. In its wake TTar is a powerful opponent topped off with CB as well makes it an even greater threat. Ive chosen a choice band set because it helps me 8/10 of the time when i really need some damage, and causing absolute mayhem in weather ways.  Using it alongside with other members of the team it creates situations that pressure the opponent heavily.
*I will not reveal the opposing trainers name due to obvious reasons*
(Ex:
HowlG sent out Scizor!
TrainerAsdf sent out Politoed!
the foe's Politoed's Drizzle made it rain!
Start of turn 1
Scizor used U-turn!
The foe's Politoed lost 46% of its health!
HowlG called Scizor back!
HowlG sent out Tyranitar!
Tyranitar's Sand Stream whipped up a sandstorm!
The foe's Politoed used Scald!
It's super effective!
Tyranitar lost 132 HP! (46% of its health)
The sandstorm rages.
The foe's Politoed is buffeted by the sandstorm!
The foe's Politoed restored a little HP using its Leftovers!
Start of turn 2
The foe's Politoed is being sent back!
Tyranitar used Pursuit!
The foe's Politoed lost 53% of its health!
The foe's Politoed fainted!
TrainerAsdf called Politoed back!
)
RoxasHunter (Skarmory) (F) @ Leftovers
Trait: Sturdy
EVs: 252 HP / 252 Def / 4 Spd
Impish Nature (+Def, -SAtk)
- Brave Bird
- Roost
- Spikes
- Whirlwind
Skarmory is here! Skarmory is always with my tyranitar no matter what. The great type resistance coverage it shares with tyranitar. Truly Awh. Also, skarm sets up spikes and walls most fighting types that come in on tyranitar.
Skarm is also entitled whirlwind to prevent pesky sweepers or baton pass teams that are threats and to seriously rack up spikes damage if layed out on the field.

L4Rent (Landorus) (M) @ Life Orb
Trait: Sheer Force
EVs: 252 SAtk / 252 Spd
Timid Nature (+Spd, -Atk)
- Stealth Rock/Smack Down/Stone Edge
- Hidden Power [Ice]
- Focus Blast
- Earth Power
Landorus, hes a great damage dealer and also handles most pokemon that attempts to stop this team in there tracks. Such As Skarmory, Landorus Handles with a Focus Blast, at no problems whatsoever. My only problem is ive had a hard time trying to find a stealth rocker, when i want a BandedTTar. BUt SR came to me fine on Lando, since most people end up switching out such as if i switch in Lando on a Heatran.
*Ex:
252SpAtk Life Orb Sheer Force Landorus (Neutral) Focus Blast vs 252HP/0SpDef Weak Armor Skarmory (Neutral): 81% - 95% (271 - 319 HP). Guaranteed 2HKO.
*
MrKrabs (Scizor) (M) @ Choice Scarf
Trait: Technician
EVs: 252 Atk / 252 Spd
Jolly Nature (+Spd, -SAtk)
- Bullet Punch
- Superpower
- U-turn
- Knock Off/Pursuit
My Scizor which i absolutely love. Its saved my ass here and there and is a great edition to the team. Along with its scarf, it out speeds Latios/Latias/Gengar/ and even Timid Starmie. Picking off threats like those to the team with no sweat! Scizor also plays a good role with  its companion Thunderous-T just in case lando isnt around when skarmorys attack.

Rule34 (Thundurus-T) (M) @ Choice Scarf
Trait: Volt Absorb
EVs: 252 SAtk / 252 Spd
Timid Nature (+Spd, -Atk)
- Volt Switch
- Grass Knot
- Hidden Power [Ice]
- Taunt/Focus Blast/ThunderBolt
Awh, I still dont get how this guy is ou.Or  even Kyurem-B. But hey its the game, hate the players, lol naw~. Thunderous-T(TT) is here to help support scizor with his skarmory sorrow. Having Only doing about 25%-30% to a Max out def and hp skarmory, scizor is easily picked off being useless towards it, if skarmory gets switch in. I dont believe this to be the best Volt-Turn Core but it works for me. Reason why i bare taunt is just nothing.. a filler.. But yea i do suggest focus blast over it now that i think about it or tbolt.
BlingBoii (Starmie) @ Leftovers/Life Orb
Trait: Natural Cure
EVs: 252 SAtk / 252 Spd
Timid Nature (+Spd, -Atk)
- Rapid Spin
- Recover
- Ice Beam/Hydro Pump
- Thunderbolt
Starmie<3. Just because of its rapid spin capabilities and its smooth way of taking status aliments for the team, such as spore breloom or will-o-wisp heatran. Starmie might not be the best spinner out there. But its pretty useful especially with its sexy speed stat of 361. Taking out or either wearing down big threats like Latios or politoed with the IceBolt combo. I've also chosen the decent attack set of Ice-Bolt just because i prefer type coverage over almost anything. But i can make changes for logical reasons, henceforth showing times and places in which where i will need hydro pump or Energy Ball or Anything basically in a certain situation.
Type Weakness' and Resistances: *Note: Chart Doesnt Include Abilities*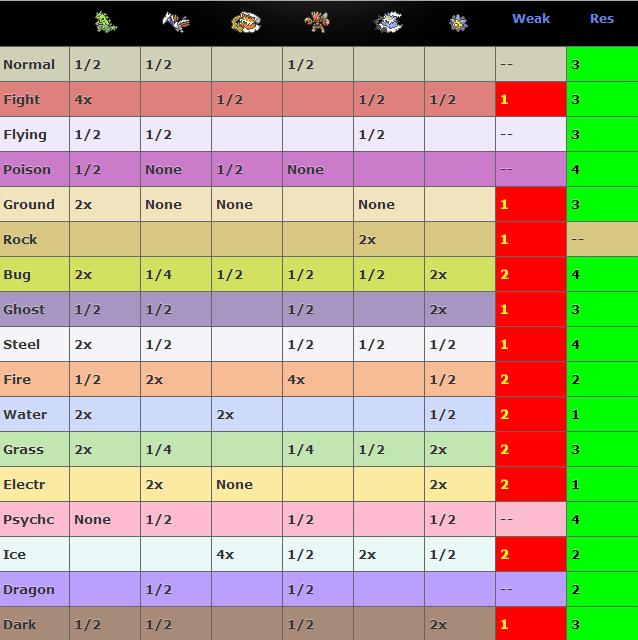 Teams Average: All Base/Overall Stats Equal to 545. 545/6=90.8 Making this team a very high B in the stats section.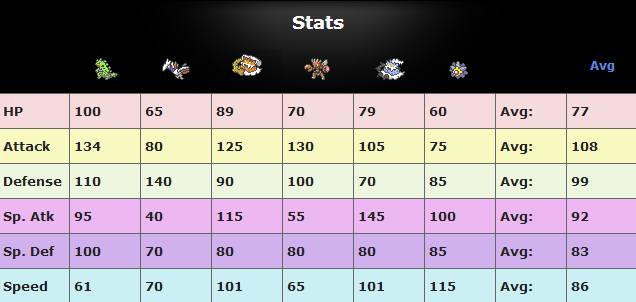 Ex/ImPort:
Person6445 (Tyranitar) (M) @ Choice Band
Trait: Sand Stream
EVs: 4 HP / 252 Atk / 252 Spd
Jolly Nature (+Spd, -SAtk)
- Crunch
- Pursuit
- Superpower
- Stone Edge
RoxasHunter (Skarmory) (F) @ Leftovers
Trait: Sturdy
EVs: 252 HP / 252 Def / 4 Spd
Impish Nature (+Def, -SAtk)
- Brave Bird
- Roost
- Spikes
- Whirlwind
L4Rent (Landorus) (M) @ Life Orb
Trait: Sheer Force
EVs: 252 SAtk / 252 Spd
Timid Nature (+Spd, -Atk)
- Stealth Rock
- Hidden Power [Ice]
- Focus Blast
- Earth Power
MrKrabs (Scizor) (M) @ Choice Scarf
Trait: Technician
EVs: 252 Atk / 252 Spd
Jolly Nature (+Spd, -SAtk)
- Bullet Punch
- Superpower
- U-turn
- Knock Off
Rule34 (Thundurus-T) (M) @ Choice Scarf
Trait: Volt Absorb
EVs: 252 SAtk / 252 Spd
Timid Nature (+Spd, -Atk)
- Volt Switch
- Grass Knot
- Hidden Power [Ice]
- Taunt
BlingBoii (Starmie) @ Leftovers
Trait: Natural Cure
EVs: 252 SAtk / 252 Spd
Timid Nature (+Spd, -Atk)
- Rapid Spin
- Recover
- Ice Beam
- Thunderbolt
This Conclude's HowlG's Reckless Sand's Team